SOFI welcomes two new PhD students
Two new doctoral students have started their positions at the Swedish Institute for Social Research (SOFI).
Amanda Almstedt Valldor and Edvin Syk have joined SOFI as PhD students in sociology. They will be working in the research program ALL-INCLUSIVE: Cohesion and exclusion in work-life change, funded by Forte and linked to the Level of Living Survey (LNU) research team at SOFI.
Amanda has an educational background in economics at the master's level at Stockholm University, with complementary studies in sociology in Stockholm and Sussex.
Edvin has a master's degree in sociology from the program in applied social research at Stockholm University.
Welcome to SOFI, Amanda and Edvin!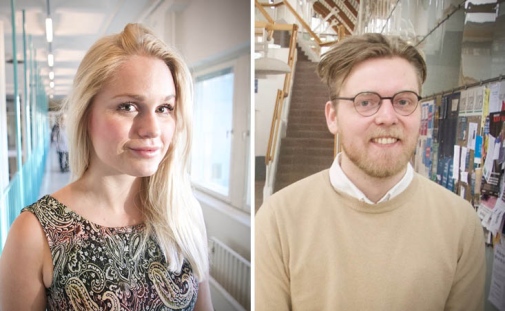 PhD students Amanda Almstedt Valldor and Edvin Syk. Photo: Daniel Rossetti/SU.
Last updated: February 3, 2020
Source: SOFI